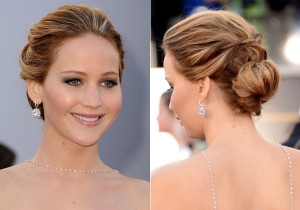 When you visit the hair salon, you should try to have an idea of what you want. Knowing what you're comfortable with and what looks good on you will ensure the stylist is able to do their job to the best of their ability, as well as ensure that you are a happy customer.
When you think of hairstyles found at the Oscars, they are typically geared toward formal events and outfits. This is an event where women focus on every aspect of their look, so you know their hair is done to perfection. When visiting the hair salon, some women will stick to the classics, while others will make it as simplistic as possible by creating a tight bun and keeping their hair sleek. Either way, taking inspiration from someone at the Oscars is a great way to find gorgeous glamorous looks in a variety of styles.
It is important to remember that it is not just the hairstyle that can make a person look great, but what you may accentuate it with. Pins with a little sparkle, a headband, or a bright accessory can turn a plain look into something much more dramatic.
When you visit your trusted local hair salon, bring in a picture of your favorite Oscar hairstyle. If you have the right texture and length of hair, your stylist should have no problem recreating this for you. Just remember that since your hair is different from others and it may not end up to be an identical match, but you can get extremely close and enjoy a glamorous, movie star look.