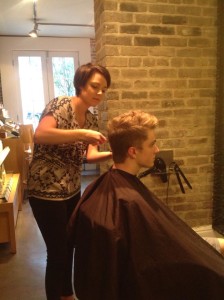 As with any career, working as a hairstylist definitely has its ups and down. But there are many factors that make being a hairstylist enjoyable and career worthy of pursuing. Here are a just a few perks that being a hairstylist provides.
Interacting With People
If you're a people person, being a hairstylist is a perfect profession for you. As a hairstylist, you get to work with all kinds of people from all walks of life and backgrounds. Meeting new people keeps your job interesting, challenging, and rewarding as you work to make your clients look and feel their best. Having a beautiful hairstyle can really help you client gain the confidence they need.
Being Creative
A large part of being a hairstylist is that you get to use hair as your creative outlet. Whether you love experimenting with color or various types of cuts, there are endless options for you to choose from. Depending on your client, they may ask you for a complete hair makeover and you have the flexibility to use your creative skills to craft a cut and color that makes your client look their best.
Training Options
Many people don't realize that hairstyling requires a lot of skill and professional training to be able to execute a look well. Luckily, there are many training options for aspiring hairstylists to hone their craft. In training, you are really able to get hands on practice and advice from your teacher so that you get guidance on what it takes to be a top notch hairstylist.