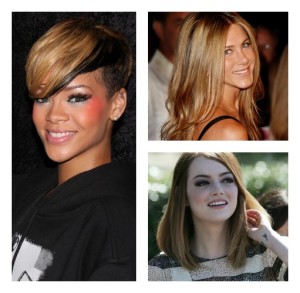 The internet puts a vast amount of information and media at our fingertips, including hot trends in celebrity looks. Whose hairstyle was most Googled in 2014?
If you're trying to find a hot new hairstyle, the most common thing to do is look towards the celebrities who are setting the trends. With the help of Google and other online search engines, it is now easier than ever to figure out how stars are chopping their locks. A quick image search instantly pulls up pictures and even tips on how to get the looks gracing red carpets everywhere. Just bring these to your hair salon and you'll be rocking your idol's style in no time at all.
Which hairstyle is drumming up most demand on the internet in 2014 and who is wearing it?
Jennifer Aniston apparently tops the list with her solid devotion to long layers. For the most part, however, it was short hair that dominated the scene, and Aniston even relieved herself of a few inches recently. The bob and its longer relative the "lob" marked a strong trend, though even shorter crops were in evidence too.
It's no surprise that Beyonce's Grammy ranked high on the list of searchable styles. The Queen Bey shocked many when she first brought out this crimped ombre. Though she moved on from it, the fierce style remains, and a similar look on Jessica Alba shows in the rankings as well.
Between Emma Stone and Christina Hendricks, the straighter, sexy red-headed lob made a showing too. This approach controls the hair without undermining its definite pop, and though Stone has trimmed a bit and adopted some adorable bangs, the effect still stands. Taylor Swift's impeccable bobbed waves, though blond, can fit into this category also.
The more dramatic pixie cuts worn by Rihanna and Jennifer Lawrence are show-stoppers for sure, so it's easy to see why they came up so frequently in searches. This type of hairstyle offers a jaunty, modern look that stands out while being relatively low-maintenance. Who wouldn't want to try it out?