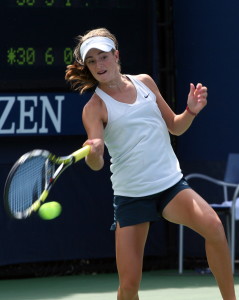 It's probably true that most athletes choose their hairstyle out of utility rather than fashion, but who is to say it can't be both? If you could use a new look for your workouts or just would like to incorporate more sporty chic into your style, ask your hair salon to turn to the U.S. Open for inspiration.
At a youthful 15, Catherine Bellis played in the 2014 U.S. Open with a long, segmented ponytail that echoed a similar mane modeled in Valentino's Fall/Winter show for 2014. Granted, the tennis player was sporting a few more flyaways, but as the youngest girl player to win a match at the Open since 1996 she has the moxie to pull them off.
To get the hairstyle, add primer to damp hair and blow dry it straight to lock in that extra-sleek texture from the start. Part hair down the center and comb straight back, adding a subtle lift. If you're having trouble getting the look exactly right, consult with your hairstylist on additional tips to get the ponytail just right.
Another athletic hairstyle comes from Julien Farel, official hairstylist of the U.S. Open. This one is a simple twist on an athlete's practical look. Working in a bit of gel at the start keeps this style looking slick and held together, and also lets you shape the crown to sneak in a little body.
Create a tight ponytail at the back of the head, and separate a small chunk from the longest part of the tail. Wrap it into a twist and then wind it evenly around the base of the ponytail, hiding the elastic. Keep the ponytail loose, or braid it tightly for extra security.
To get an even closer look to what the athletes are sporting, visit your hairstylist who can give you that perfect sporty look you're trying to achieve.