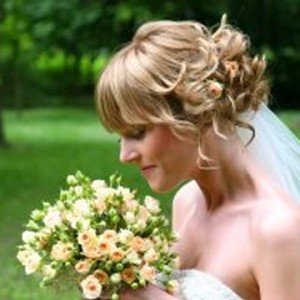 Summer weddings can be fun and flirty affairs that deserve a hairstyle to match. Visit your favorite New Orleans hair salon to talk to a stylist about some styles you can use to match the mood and setting of the event you're attending.
If you're going to a romantic and rustic wedding out in the country, you don't want to wear your hair up in a tight formal bun. A soft and sultry updo might be more appropriate. It's best to wash your hair the day prior to the event to allow your natural oils to kick into gear. Use a styling mousse in your damp hair to give it texture required for the next-day curls. Create big loose waves with a fat barreled curling iron. Then using clips, divide your tresses into three sections. The middle section should be crafted into a very loose bun. Use bobby pins to pin pieces from the other sections into the loose bun. For the true rustic country look, use real or silk flowers and little bows. This one can be a little tricky, so you might consider asking your favorite hair salon for help.
In contrast to the country wedding, there is the urban city evening wedding. Even if held in the casual summer months, it deserves an equally formal style. A slick, smooth and severe bun is a classic formal style that will compliment any dress you choose to wear. You'll need a good serum to get that smooth sheen on the pulled back hair. A high ponytail then needs to be wrapped around and secured with pins. Since it can be challenging to get these pins in yourself, you may consider getting some help at your local hair salon. You'll want a healthy dose of hairspray to achieve this look.
If you're lucky enough to be invited to a beach wedding, this is one of the easier weddings to dress and accessorize for. To get a sophisticated but beachy look, the best hairstyle will be one that is partly up and partly down. Look for one of the many salt water sprays or pomades on the market today. Most of these products can be purchased at your hair salon. Apply that to your damp hair and use your hands to scrunch it up into a messy look. Follow that up with a large barreled curling iron for some added curls. You can part your hair in the middle or on the side, twisting the sides of your messy hair and securing it in the back. Use small flowers or seashells to adorn the twisted pieces.