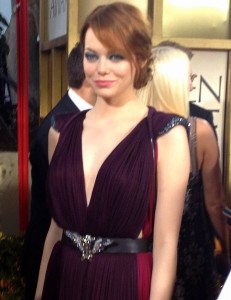 Do you want to sport one of the inspirational celebrity hairstyles worn at the Golden Globe Awards? Whether you want to wear your hair short, long, or in a ponytail, you will look just as fabulous. This is true even if you aren't walking the red carpet. On the red carpet, celebrities showed off their slick hair strands, chic bobs, pixie cuts and side parts. Here is the scoop on who was wearing what.
Rosemund Pike
Rosemund Pike was spotted with a killer bob, which made her stand out. Her flawless skin tone and glossy lips added sophistication to her look. Wearing an elegant white dress, it was natural for her to contrast her ensemble with her sleek and straight hair.
Emma Stone
In a customized Lavin jumpsuit, Emma Stone was the symbol of all things classy, modern and elegant. She boasted a tousled hairdo, which was perfect for her attire.
Kate Mara
The Miu Miu dress that Kate Mara wore on that night created a beautiful, modern silhouette. To finish off her ideal look, she wore a deep side part and her lustrous hair cascaded down her back.
Sienna Miller
Keeping it simple and fresh, Sienna Miller wore hooped earrings, full lashes and nude lipstick. She wore a spectacular beaded dress. She finished off her outfit with a side swiped and textured hairstyle.
Jessica Chastain
Jessica pulled it off with a simple ombre hairdo and smokey eye shadow that highlighted her bronzed skin. It looked so effortless.
Katie Holmes
Katie Holmes sported a new look. Known for her medium length and short tresses, she switched it up with a fabulously sleek ponytail worn to the side.
Lupita Nyong'o
Staying close to her personal style and taste, Lupita Nyong'o kept her natural mane. She wore a trendy Afro look. Pastel eyes shadow and pink-glossed lips gave her a picture perfect appearance.
For one of these fabulous celebrity hairstyles, visit your hair salon today. Your hairstylist is waiting to turn you into a celebrity look-alike. In the meantime, browse our website to see what we offer.