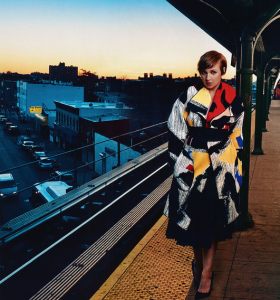 The ladies of "Girls" have hairstyles that reflect each character's actions, lifestyle, and personality. Each of the girls is very different from each other, and their hair stylist has used their hairdos to reflect who they are. Let's break down how each of the girls' hair defines them.
Hannah
In the first season, Hannah had a cute bob that she accented with small barrettes and baubles. However, during her breakdown, Hannah chopped off her own hair as part of the story. Bookworm Hannah currently has a short crop after a visit to the hair stylist. She usually tousles it; reflecting the character's lack of vanity. It is a very low-maintenance style, which also reflects Hannah's noted laziness.
Marnie
Marnie uses her hair, like her wardrobe, as a signal to the world that she is perfectly put together; however, her life is anything but ideal. She currently has a layered cut that frames her face beautifully, but it also screams that she wants to be taken seriously. However, whether she is wearing cascading waves or her hair is neatly done up, the prim-and-proper Marnie always looks perfectly polished.
Jessa
Jessa is the group's Bohemian gypsy girl. She's a free spirit and her hair is an extension of her artistic nature. After all, who can forget the romantic front braid she sported while she painted the portrait of her estranged husband? What about the updo with the chopsticks that she wore the first time she met her in-laws? To Jessa, her hair is just a canvas for her hair stylist, used to express her inner-self.
Shoshanna
Possibly the quirkiest and most fashionable of all the girls is Shoshanna. Whether she wears an oddly placed bun, ornate braids, or voluminous pigtails, her zany style entertains and intrigues fans. Most notably, of course, is that large donut bun worn on top of her head with the rest of her hair down. The style when viral throughout the blogosphere and it was even parodied on Saturday Night Live!
So, which of the girls are you the most like? Whose style do you emulate? Or, are you looking to take your hair in a whole different direction? At Salon Du Beau Monde, each hair stylist can recommend which of these styles will suit you best based on your face shape, hair texture, and lifestyle. We are experts on all the latest cuts and colors, as well as the intricate braiding and elaborate up-swept dos like those seen on "Girls."
Credit photo: Alien_artifact