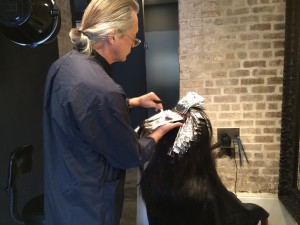 You might find yourself wondering if the ombre hair trend is still considered fashionable. While many celebrities seem to change their hair style and color more than they change their clothes, this does not mean that this particular hair trend has gone out of style. Many people use color correction to get the two-color look that they want the most. Of course, this is always best done through the help of a professional hair stylist. If you attempt to do this on your own, it might not turn out the way you want. It could end up choppy looking and leave you disappointed. Since too many mistakes can cost you a lot of time and money, while damaging your hair, you may want to leave color correction to the professionals.
When selecting your hair color, it is important to think about what suits your personality. While ombre is still a very hot trend, it is vital that this you feel comfortable with your look. If the ombre hair trend is something that is very new to you, you might want to start off with something less dramatic. This way, you can slowly get used to the new look. As the color grows on you, you can make a change and go for something a little more wild.
Of course, you might want to stick with the advice you receive from your stylist about the texture and style of your hair when selecting your colors. This way, you will have a better chance of being happy with the end result. Remember, your hair stylist received a great deal of training and has a lot of experience creating various ombre looks.