Grooming trends come and go, but stylish men stay apprised of current looks. Some techniques just make sense because they are so effective for overall grooming. Others will help men ensure an edgy appearance that works for virtually any occasion.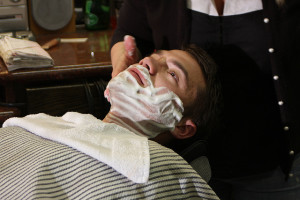 Shaving with a Straight Razor
A straight razor might seem dangerous, but gentlemen tend to be amazed at the smoothness that is possible with this simple tool. Although this process may take a couple of extra minutes, most men enjoy a lasting smoothness that costs less than to shave with a traditional razor. The basic technique involves opening the pores first, shaving with the grain a few times, and finally pulling the straight-edge against the grain for an ultra-smooth result.
Hair Options
Virtually anything goes for hair, depending on individual tastes. Leave layers longer to frame the face, if this style fits you well. Another option includes a military fade with close sides and a longer top. Go for a real rebel look by keeping the length a little on the long side with a fringe at the face.
Beard Trends
Facial hair options are plentiful. Full beards are front-and-center with enough scruff to keep a man's face comfortably warm all winter. A little more grooming can keep the beard neatly clipped, ending at the jawline. Blending a little salt and pepper into a beard is an appealing look for many men.
Color Ideas
Coloring trends are not just for the ladies. The most daring males might choose bright, neon colors for both head and beard. Men can also embrace more neutral tones to give hair a warmth and vibrancy. Adding color can be a great way to fight any discouraging thinning issues, too.
By staying up-to-date with the latest grooming trends, men can explore and experiment to find their own unique fashion style. Special thanks to Chris Michaels for the straight razor image.